On behalf of the Holmes Family, the farmers of Misty Brook have created a fundraising page to continue to raise money for the constant PFAs testing to ensure the quality of our products.
Click here to check it out, and thank you for your support.
Updated: October 31, 2022. We will update this page as soon as we have information to share. Please connect with us on Instagram @mistybrookfarmme and FaceBook @Misty Brook Farm.
---
PFAs Update October 2022
For a more detailed look at our approach to the PFAs contamation, please read the update from July 2022 below.
Both the sheep and the old herd made it below the states action level of 210 parts per trillion, yay! They are heading in the right direction. Check out the graph below. We are going to be drying off the ewes now and it looks like we will be able to sell bottled sheep's milk again in 2023.
We were worried about the pigs we have been raising all summer because their moms were exposed to the contaminated hay and manure from the cow barn during their gestation period (they are housed behind the cow barn in the winter), but the batch of porkers we just sent all tested non-detect. So, we have a lot of pork cuts coming in! Please fill out the interest form on our
homepage
for more information.
Ham steaks, roast, chops, ground, sausage, bacon, smoked shoulder, hocks
, and Alister is harvesting beans this week. Pork and beans are in our future!
Amanda Beal (Commissioner of Agriculture) asked Katia to be on the
PFAS Fund Advisory Committee
, so we will continue to be active in working to ensure progress is made in addressing PFAS contamination in our state. Katia is honored to be on the committee and hope to help the state of Maine address PFAS contamination in a proactive and comprehensive way as well as being a support to other farms facing PFAS contamination.
---
PFAs Update July 2022
We wanted to share an update on our PFAs testing, since we are very much still on the bumpy path forward. The good news is that the PFAS crisis is being taken more seriously on a national level. Perhaps some of you have read the Washington Post article that relays the EPA's new findings around PFOA and PFOS. The article states:
"Agency officials assessed two of the most common ones, known as PFOA and PFOS, in recent human health studies and announced Wednesday that lifetime exposure at staggeringly low levels of 0.004 and 0.02 parts per trillion, respectively, can compromise the immune and cardiovascular systems and are linked to decreased birth weights." (Notes: These levels are in reference to water as humans require a lot of water and are made up of over 50% water. The labs are also not capable of accurately testing to these low levels yet, so there is a lot of work to be done.)
---
Understanding the actions levels for PFAs
Put on your science lab coats and thinking hats… We are learning about PFAs at the same time you are (and the CDC, EPA, DACF… this is new to ALL of us!)
Let's start with some simple vocabulary and definitions…
Parts per billion (ppb): all solids (meat, hay, and soil) are tested in ppb

Parts per trillion (ppt): all liquids (water and milk) are tested in ppt

1 ppb = 1,000 ppt
The Maine CDC's new calculations would change the action levels for:
Beef – 0.4 ppb instead of 3.4 ppb. Prior to this change, we had only been selling beef at 1.7 ppb or below. We have discarded all products that don't meet this new level.

Milk – 44 parts per trillion instead of 210 parts per trillion.
So, 0.4 ppb is the same as 400 ppt. The new proposed milk action level of 44 ppt is only just above the accurately detectable level. Anything under 25 ppt is generally considered a non-detect in milk with the current testing abilities of the labs.
Non-detect: we say essentially non-detect because it is hard to accurately test at low levels. We are talking 0.4 parts per billion. That is an extremely small amount.
Maine DACF hasn't changed their action levels on food yet. We think there is foot dragging on adopting these new action levels because there are many farms in the state that would not be able to meet the new levels and the state isn't ready to deal with the bigger problem yet.
---
Where do these limits come from?
These numbers are calculated based on the 95th percentile of people in the US. That means the CDC looks at the data that is collected through the most recent census on how much beef for example a person consumes in their diet. Then they look at the people who consume the most beef (95th percentile) and make their calculation for a safe limit for that group of people.
---
So, what are we doing?
We have adopted the new action levels as we work to eliminate PFAS.
We discarded 6,000lbs of contaminated meat that was above the new level of 0.4ppb
We continue to get the tests done that we need – and this has continued to be one of the biggest challenges.

It's still taking about 3 weeks to get test results back on the milk.
The lag time is extremely frustrating.
We are sampling the new herd and the old herd every two weeks, so we always have a test out before we get the last results.

At this time we are only processing animals that we believe will test non-detect. That means:

beef from the new herd
pork from batches that have previously tested non-detect
lamb from the group that tested non-detect
veal raised on pasture last summer tested non-detect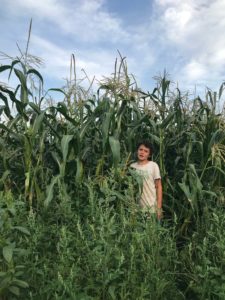 ---
Progress in decreasing PFAs in our milk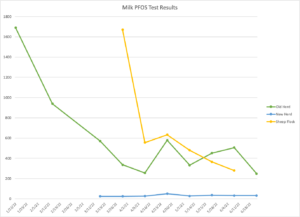 As you can see from this graph it's a bumpy road to decontaminate our cows and sheep.
The old herd shown in green made steady progress when we took them off the contaminated hay. But in April you can see they went up again when a bunch of cows calved in after being dry for two months. They don't shed the PFOS as fast when they aren't making milk. In the end of May beginning of June they went up again when we dried off a bunch more cows that were lower, so now most of the old herd have calved in again or are dry and taking a break for the last two months of their pregnancy.
The new herd in blue are pretty consistent. In the end of April you can see we fed the hay that tested non-detect in ppb, but clearly contained a little PFOS.
The sheep flock in yellow lambed in April and you can see there was some variation as more ewes joined the flock. They seem to be making good progress now.
---
Soil Testing
90 acres of our farm has tested positive for PFAs. We have changed some of our cropping plans and let some of our best dairy quality forage fields go by with the plan to make bedding hay rather than risk feeding it to our cows. This is hard for us as we spent the last 9 years rebuilding the soil life and plant species in these fields to produce some of our best quality winter dairy feed.
We are lucky that almost all of the fields around the barn are non-detect. So, the cows are grazing the non-detect fields without any risk of contamination.
---
How PFAs Stick Around (aka how they got to be

called "forever chemicals")
How do the levels in the soil correlate to the levels in the grass?

And the levels in the grass correlate to the levels in the milk?

And the levels in the milk correlate to the levels in the meat?

It is currently all speculation.
We need more studies to find trends that can give us a better understanding of how the PFAS chemicals move.
We unfortunately discovered that non-detect hay tested in ppb can produce milk that show detectable levels in ppt. We thought we were safe to feed the bales that had been cut open and tested non-detect, so we fed them to both herds and the new cows tested 35 parts per trillion for PFOS in the milk. We changed what we were feeding the new cows as soon as we found out and they are now grazing on pastures that tested non-detect in the soil. It just shows how vigilant we need to be and how much more testing needs to be done to figure this all out.
Right now we are keeping detailed records and marking all of the bales we make so that we can decide what to feed and what not to feed the cows when we know more.
It is challenging to be the people figuring all of this out, but we need to know and the only way to find out is to ask questions, look for answers, and test.
---
Looking forward for our family
We eat the foods we produce every day. We stand by its quality and the health it brings all of us. We believe that the benefits of eating organic, grassfed and pastured meat outweigh the minimal detection of PFAs in the products we are eating and selling.
We want to live in a community where we can trust the food we grow and our neighbors grow. We continue to face the PFAS challenge and with your support we will find the best way forward. We all care deeply about providing people with healthy foods now and for generations to come.
---
The Holmes family tested for PFAS in their blood, too.
The 95th percentile of people in the US have 3.8 ppt PFOA and 15 ppt PFOS in their blood.
Katia tested at 6.4ppt PFOA and 14ppt PFOS.
The kids tested at 8.9 to 11ppt PFOA and 18 to 22ppt PFOS.
Brendan tested at 12ppt PFOA and 27ppt PFOS.
The family is above the normal levels, but not by much. Industrial workers where the chemicals are manufactured test in the hundreds and people with high levels in their water test in the thousands.
Our hearts go out to people with such high levels; we feel we are lucky. We ate the meats that tested over 3.4ppb PFOS and we drank the milk that tested 1690ppt PFOS before we knew it was there. Sometimes we find it hard to keep looking for something so small we can't see it, smell it, taste it, or find any sign of it. We feel like we are up against the invisible enemy.
As always, please reach out with any questions. We may not have the answers, but we are learning every day and we are working hard to be transparent and continue to grow healthy food for our family and yours.