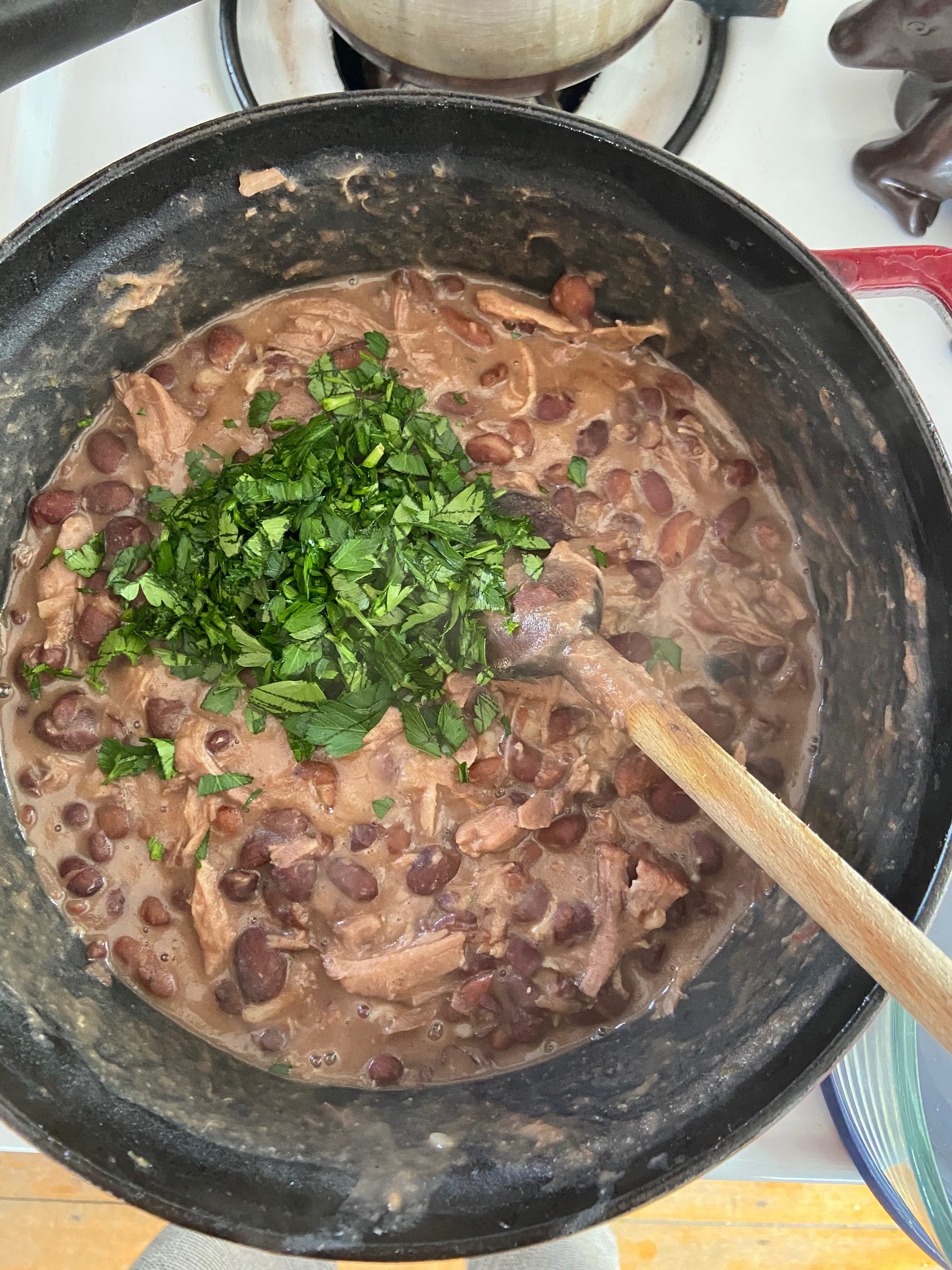 RECIPE: Ham Hock and Beans
Maybe its the New Englander in me, but few things are more comforting on a cold winters day than a bowl of sweet but salty, savory baked beans. I have many memories of ladling the molasses-sweetened, creamy beans onto a plate at public bean suppers; I remember the smells that slowly filled my home as as my dad slowcooked in the old crockpot his famous Great Northern baked beans.
It wasn't until I was an adult and left to my own culinary accord when I realized just how much sweeteners and processed ingredients (think ketchup and barbeque sauce squeezed out of a tube by the cupful) go into a pot of my beloved baked beans.
In this recipe, we've taken everything great about baked beans – the low and slow cooking, the fatty ham hock that adds so much flavor and pulled meat, the mixed dry beans that give us a variety of tastes and textures – and made a simplifed, in my opinion far superior, version of this New England staple. So if a warm bowl of pulled pork and tender beans sounds like a worthy companion during these long winter days, give this recipe a go!
Ingredients:
1 lb Misty Brook Farm dry beans, mixed variety
1 Misty Brook Farm ham hock, thawed
1 large onion, chopped
1 head of garlic, minced
5 sprigs fresh rosemary
Bunch fresh herbs (parsley, thyme, oregano, etc.)
2 bay leaves
Directions:
Rinse the beans and remove any rocks or overly-dried beans
Put beans, ham hock, onion, garlic, and oregano in dutch oven
Fill with water until all ingredients are covered (you will need to add more water as you cook, making sure the beans are always submerged until done)
Bring to a boil then reduce heat to low, cover, and simmer until beans are tender and done
Allow to cool to room temperature (no more than 4 hours) before storing in fridge overnight (this will allow the fat to rise to the surface and solidify)
The next day, scrape off the top layer of fat and set aside (use this for other tasty projects… biscuits and other baked goods, or simply use in place of olive oil or butter when cooking!)
If there is a lot of liquid, strain everything except 1/3 cup liquid
If there is less than 1/3 cup liquid remaining, keep liquid in pot
Remove ham hock and pick meat clean, discarding any bones, skin, etc.
Simmer the picked meat, beans, and remaining liquid
Add chopped herbs and simmer until thick
Serve hot!