RECIPE: Rye Chocolate Chip Cookies
While our rye seed originated up in Aroostook County, we have been saving seed and regrowing this crop since we relocated to Maine, making our rye a uniquely-Misty Brook variety. Rye is a very popular cover crop in this part of the country because it grows rapidly to create a ground cover that holds soil in place against rain and wind. The deep-reaching roots of rye helps keep soil areated and loose, ready to absorb rainwater and nutrients from soil amendments and fertilizers.
We mill our rye into flour, common mostly in baked goods originating in Germany and Scandinavia. Most rye breads that are baked today contain a combination of rye and wheat flours, with the rye dominating in nutty, earthy flavor, and the wheat's gluten aiding in structure. Unlike the gluten protein that is found in wheat, the proteins found in rye do not form strong, elastic-like networks that support breads and other baked goods. A bread that uses no wheat and all rye will lack structure and body, but this isn't always an issue with other baked goods!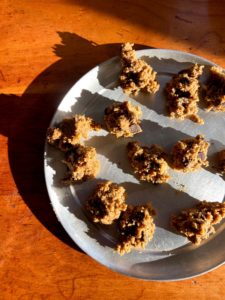 Consider the role of wheat gluten in something like a cookie. Here we aren't relying too much on the gluten to hold everything together, because we expect our cookie to be crumbly and not tough. We love mixing rye flour into our breads, but will easily swap out all wheat flour and use 100% rye in things like cookies and brownies because, WOW! That flavor is a game-changer!
Rye Chocolate Chip Cookies
Recipe adapted from the New York Times
Ingredients:
½

cup unsalted butter at room temperature

½

packed cup dark brown sugar

½

packed cup light brown sugar

½

cup granulated sugar

1

large Misty Brook Farm egg

1

tsp vanilla extract

1

tsp baking powder

½

tsp kosher salt

6

oz chopped dark chocolate (or about 1 cup chips)

Flaky sea salt, for sprinkling
Directions:
Heat oven to 375 degrees. Line two baking sheets with parchment paper, and set aside.
In a large bowl, mix together the butter and sugars. Stir in the egg and vanilla extract until smooth. Add the flour, baking powder and salt, and mix until thoroughly combined. Lastly, mix in the chocolate.
Portion the cookie dough into balls slightly larger than 3 tablespoons (each about 2 ½ ounces/70 grams). Roll each with your hand and place the dough onto the prepared baking sheets, spacing the balls at least 2 inches apart. Press gently into a puck about 1-inch thick.
Sprinkle the cookies with some sea salt and, working with one batch at a time, bake until the cookies have spread and are browned on the bottom, 10 to 12 minutes. Repeat with remaining batch. Let cool for a couple of minutes on the baking sheet before transferring cookies to a wire rack to cool completely.