RECIPE: Veal Stew with Lemon Polenta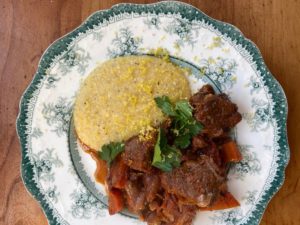 Article and recipe by Robin Kerber
At Misty Brook Farm, we believe that humanely raising veal is a vital part of a healthy dairy farm. If you drink dairy, the responsible thing to do is also eat veal. Every year a cow has a calf in order to keep the milk flowing. About half of these calves are bull calves, and while most dairies sell their bull calves as soon as possible, we raise them here for either veal or beef. On our farm we raise all the calves and give them the best life possible. When it comes to raising animals for meat, we like to say: they will have one bad day, or even just one bad moment, on this earth. We take pride in filling all their days with healthy soil and feed, plenty of sunlight and respect.
Our veal calves are called rose veal because of their color. The calves are all raised on their mothers or nurse moms. They are rotationally grazed with their moms and have plenty of sunshine. With all this great food and attention, our Jersey bull calves make superb rose veal. The veal is delicate in taste compared to beef and takes seasoning well.
This recipe is rich and savory, but the flavors are subtle enough to not mask the delicate flavor of the veal. Enjoy with polenta, pasta, or any grain side!
Veal Stew with Lemon Polenta
Ingredients:
1 Tb olive oil
2 lb veal stew meat
Salt and pepper
1 Tb salted butter
2 celery ribs, chopped
1 large onion, chopped
1 large carrot, chopped
1 Tb tomato paste
1.5 cups red wine
2 cups canned whole peeled tomatoes
1 Tb fresh rosemary, chopped
1 Tb fresh thyme, chopped
2 Tb Italian parsley, chopped (save 1 tb for garnish)
4 cups water, broth, or stock
1 cup Italian cornmeal
Salt and pepper
1 Tb finely grated lemon zest, half used for garnish
Instructions:
In a enamel cast iron casserole pot, heat 1 Tb of the olive oil
Add veal, salt and pepper
Cook over high heat until browned, then remove from pot
Add 1 Tb butter to pot and put over medium heat
Add celery, onion, carrot and tomato paste
Cook until softened, then add wine and tomatoes
Reduce down until thick, then add fresh rosemary, thyme, and 1 Tb of the parsley
Add cooked veal meat and turn heat down to a very low simmer
Cook until veal is tender, simmering and covered for about 1 hour
For polenta, bring liquid to a boil
Slowly whisk in cornmeal
Reduce heat to low and cook for about 25 minutes, switching to a wooden spoon when polenta becomes thick
Season with salt, pepper, and half of lemon zest
Serve hot veal stew with cornmeal, garnished with lemon zest and remaining parsley